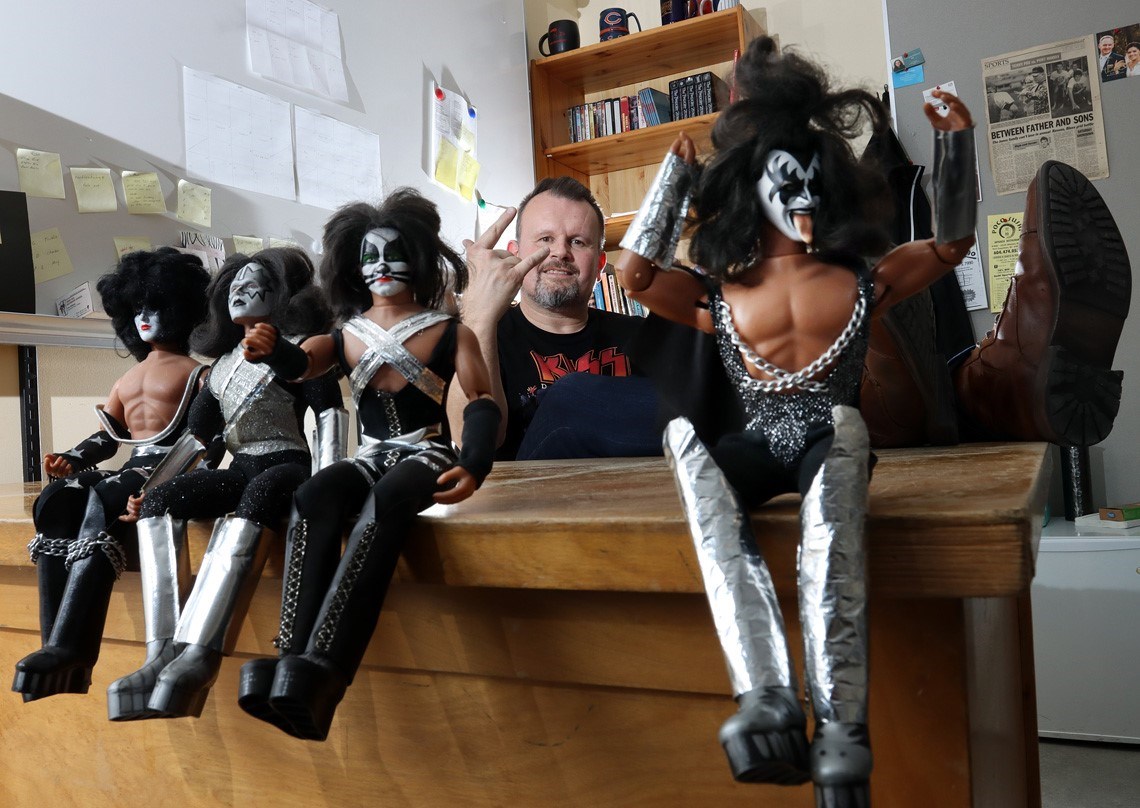 Now self-published on Amazon.ca, "I Stole Your Love: The 100% True Story of a 100% True KISS Fan" isn't just a nod to his hometown, it's also a tribute to the quartet that got him through those early years in Port Coquitlam.
For three months during the COVID-19 pandemic lockdown, Ron Williams wrote to himself in the pages of KISStory.
That is to say, the English teacher at Terry Fox Secondary wrote a memoir about his childhood in Port Coquitlam in the 1970s and 1980s, obsessed with the rock band KISS.
Now self-published on Amazon.ca, I Stole Your Love: The 100% True Story of a 100% True KISS Fan isn't just a nod to his hometown, it's also a tribute to the quartet that carried him through those early years at PoCo.
The book is a collection of Williams' best childhood stories with KISS at its heart.
In 255 pages, he writes about his experiences as a KISS fan at Cedar Drive Elementary, George Pearkes Junior Secondary and Terry Fox Secondary.
His enthusiasm for the band solidified when he received his first pack of KISS Trading Cards at the age of six in 1978.
"There's something about the raw attitude of PoCo's northern blue-collar workers that made them a natural match for KISS," he wrote in his book released this month.
Williams also describes landmarks well known to longtime PoCo residents, and he even drops the names of a few of his pals who were also on the KISS ride.
Among them, Jason and Sean Laverty, Graeme Metcalf, Ronald Nitschke, Paul Carter, Corey Geill, Steve Pukesh, Darren Hankey and Robb Mawhinney.
And, of course, his "sworn enemy", Jason Pretzer.
Pretzer was the one with whom Williams regularly competed for the title of top KISS fan.
Still, the rivalry only fueled Williams' passion.
He devoured all the news about the mega group, religiously bought their recordings and headed to Vancouver to buy KISS memorabilia at Collectors RPM.
But, Williams told the News from the three cities, he has sold most of these items now, although he has included pictures of some prized possessions in his book: records; his favorite tape of all time (creatures of the night); his album with Gene Simmons on the cover; drawings and writings submitted to the deceased Fire station magazine and concert posters.
Williams has some pretty cool stories about KISS gigs, including a rare chance to meet the band backstage at the PNE Coliseum after he and his pals — along with Pretzer and his band — were asked by a roadie to polish the tour bus wheels.
Now a father of four, all of whom listened to dad idolize KISS, Williams said he has yet to share the news of his post with his Fox students.
However, they know that Mr. Williams is a super fan.
He has a little sanctuary in his classroom, and in the community he likes to go back with his childhood buds – including Pretzer – to relive the KISS days.
Williams said he did not write the book to gain fame or make money; he just wanted to get his stories out.
"It's near and dear to my heart," he said of the book. "My mom read it and said it was like The good years meets KISS. It's like stepping back in time. »
As for his KISS favorites, Williams gives the star to Paul Stanley.
"He's a great leader. He has positive messages in his songs. I like that he doesn't take things too seriously; he keeps it light.
And his song? "Sure to know something" from Dynasty.
To purchase a copy of I Stole Your Love: The 100% True Story of a 100% True KISS Fan, you can go to the Amazon website for a print or ebook version. Williams also has Facebook (@IStoleYourLoveBook) and Twitter (@truekissfan) showcasing her new work.