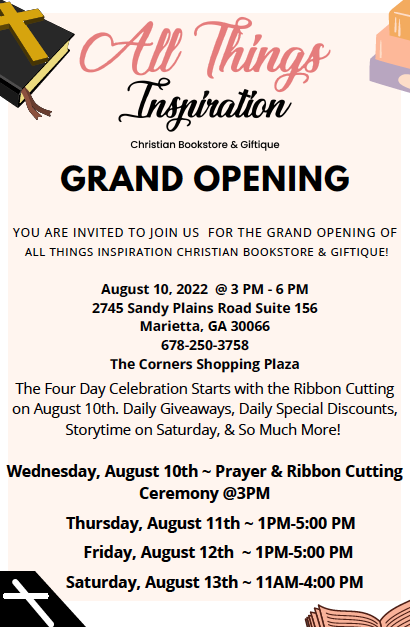 Back in March All Things Inspirationa Christian bookstore, opened a second location in Cobb County in Northeast Cobb with a "soft" opening.
On Wednesday, the store (2745 Sandy Plains Road, Suite 156) will kick off a four-day grand grand opening with a ribbon cutting at 3 p.m.
Owner LaVonya Williams-Tensley said there will be special savings and prizes through Saturday (see flyer for more).
Like the original location in South Cobb, All Things Inspiration offers a variety of Bibles, Christian books, church supplies, Bible study materials, Christian greeting cards, Christian-themed gifts and Moreover.
Williams-Tensley also said the store, which has meeting space, will host Bible study groups, book clubs, story hours, author signings and other events.
"We are thrilled to have the chance to make Marietta the home of our second store," she said. "It is a privilege to serve God by serving the community with an enjoyable shopping experience, excellent customer service, and access to an assortment of life-changing resources."
Related:
Receive our free newsletter by e-mail!
Every Sunday we round up the week's top headlines and preview the week ahead in the East Cobb News Digest. Click here to register, and you're good to go!
Related