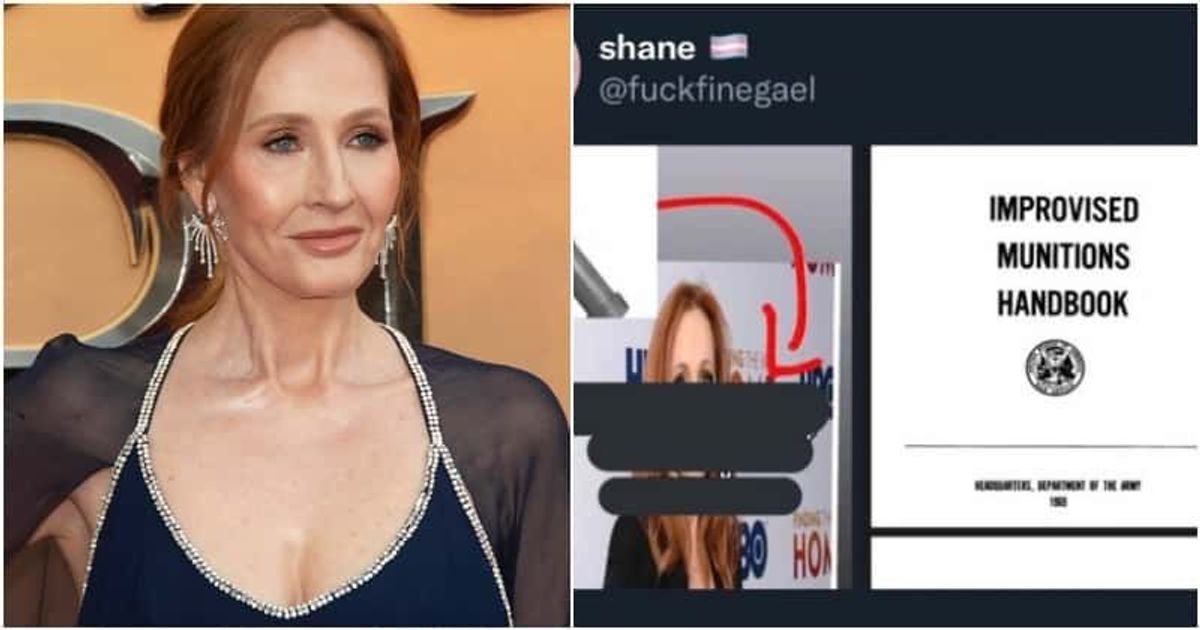 Famous novelist JK Rowling has made the news again after receiving online death threats from a trans activist. Police are investigating a death threat against the novelist after a trans activist asked her Twitter followers to deliver a bomb to the author's home. The lewd tweet included a photo of the "Harry Potter" writer's address, a pipe bomb and the cover of a bomb-making manual.
ADVERTISING
However, the 'Harry Potter' writer recently responded to the comments and asked social media users to be 'kind'. Additionally, the acclaimed author said police are investigating the incident and have taken action against the activist. On Friday, July 1, 2022, Rowling tweeted a screenshot of the threat made on Tuesday, June 14, claiming the activist's Twitter account had been active for several weeks. "My family's address (covered), a pipe bomb and a photo of a bomb-making manual. The account remains active, of course. #BeKind," Rowling tweeted. The transgender account had also written that feminist writers such as activist Julie Bindel should "keeeellllll". "Officers are investigating," a spokesperson for Police Scotland said. Mail online.
ADVERTISING
READ MORE
Hillary Clinton Warns Democrats JK Rowling Effect Could Derail Them Midterm
JK Rowling 'death threat' video: Outrage after Twitter clears sinister message from trans activist
ADVERTISING
"The fact that people can publicly make death threats without concern is a telling accusation." Fiona McAnena from advocacy group Fair Play For Women told the Mail. The offending profile was eventually deactivated for violating Twitter rules. After the incident, the hashtag #IStandWithJKRowling started trending on Twitter.
ADVERTISING
One user tweeted in Rowling's support, "Today I'm tweeting #IStandWithJKRowling because no one should have to endure the abuse and threats she has for simply expressing an opinion that most people in the world would regard as completely uncontroversial."
"JK Rowling might take the easy route and enjoy the fruits of her success, but she's standing up for women's rights when it's causing her so much trouble. A true champion to all of us. #IStandWithJKRowling," another user posted. . Another fan said, "Always #IStandWithJKRowling. Thank you @jk_rowling for standing up for women and girls, even in the face of bullying. Women will always stand by you."
ADVERTISING
Earlier on Sunday, JK Rowling took to Twitter to thank her fans while commemorating the 25th anniversary of her book's release at an Edinburgh bookshop. She wrote: "I had absolutely no idea what was to come as I stood dumbfounded in this bookstore, staring at my name on the back of a published novel. Thank you to all the readers who boarded the Hogwarts Express in 1997 and stayed with Harry until the very end. What a trip it was…"
ADVERTISING
Additionally, the 56-year-old gave a preview of her first book, Harry Potter and the Sorcerer's Stone, which was first discovered in a bookstore. In the photo caption, the famous novelist said: "25 years ago today I saw Harry Potter and the Philosopher's Stone in a bookshop (Waterstones, Prince's Street, Edinburgh) for the very first time. It was one of the best times of my life. Thank you, @BloomsburyBooks, for taking the risk of a complete unknown."
ADVERTISING
Rowling sparked controversy in 2020 when she sent out a series of tweets criticizing transgender concerns. She retweeted an article on "global menstrual health and hygiene" from an international development organization. She then mocked the headline which read, "Creating a more equal post-COVID-19 world for people who menstruate."
Rowling tweeted in 2020 that she was offended by the term 'menstruating' because the word 'women' was omitted, which earned her criticism and she faced anger from the transgender community .
ADVERTISING
This article contains comments made on the Internet by individuals and organizations. MEAWW cannot independently confirm these and does not support any claims or opinions expressed online.