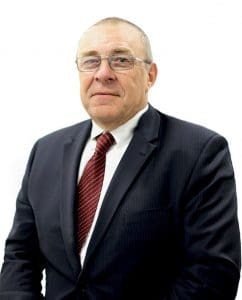 [ad_1]
The future of Australian Wool Innovation's WoolQ platform and its wool business arm will be discussed with the industry, according to new AWI President Jock Laurie.
After Mr Laurie's recent appointment to the most senior position at AWI, Sheep Central asked him whether to continue funding WoolQ to duplicate the services provided by online sales platforms such as AuctionsPlus or through Zoom, and the systems established integrity, was effective use of producer samples.
Mr. Laurie replied that the decision to develop WoolQ was made seven years ago.
"There are quite a few traceability things that are going to be involved in the WoolQ program which is starting to align with all of the things that we are hearing demanded in some of these foreign markets.
"I think there are some really good things there."
Mr Laurie said that WoolQ's wool sales platform has organized several online sales.
The last of these was late last month, in the absence of a physical auction in Western Australia, when WoolQ Market was used by a broker in WA to offer 817 bales and got a 75% customs clearance.
"There will obviously be discussions about where we are taking WoolQ and where we are taking this component of the platform," said Laurie.
At the end of March of this year, AWI told senators from the Committee on Rural and Regional Affairs and Transport Legislation that it had spent $ 6.3 million in levy funds for producers on the WoolQ platform. Market over the past five years, but it had not generated any income. AWI's 2019-2020 annual operating plan had an operating target of 2% of all Australian wool to be traded by the WoolQ marketing tool, but sold less than 1 pc, or 939 bales out of 32,437 balls created on the platform.
When asked again if WoolQ represented an efficient use of producer levy funds when there was no market failure in the areas of online wool sales and traceability, Mr. Laurie said the board will "sit down and review." He reiterated that WoolQ's investment decision was made by AWI's board of directors about seven years ago.
"A lot of the development of this stuff has already been done and the board is going to sit down and discuss WoolQ.
"He's going to continue to have discussions around WoolQ and I think it's also important that we sit down and talk with the whole industry about WoolQ and where it fits," he said. -he declares.
"We need to have these discussions, I can't tell you more about it right now until we sit down and do this work."
Mr. Laurie and former managers use WoolQ
On May 27 of this year, AWI Chief Executive Officer Stuart McCullough told National Senator Bridget McKenzie to Senate Estimates that he knew some former and current board members were trading their wool on this platform. , but he didn't know if they were among the best. 30pc of growers producing 80pc of Australian clip. Sheep Central knows that former AWI President Wal Merriman offered wool for sale on WoolQ.
Mr Laurie said there would be directors who would use it.
"There will be former directors who will use it, who will see its value.
"I'm going to sell my yarn on it, and I know other directors have done that as well."
Mr McCullough said AWI's consultation on WoolQ over the past 12 months has been largely with brokers, wool producers and exporters.
Mr McCullough said AWI aims to get WoolQ into the commercial arena as quickly as possible and test it in the commercial arena.
"There's a good reason we haven't moved this into the commercial arena.
"We sought advice from Port Jackson Partners on the way forward in terms of ownership and operation.
"We don't think this is the right time to put it in the hands of a business partner.
Mr McCullough said one of the reasons was liquidity.
"One was that we were still building modules for this – the blockchain module and the supply chain integrity model.
"We think it's best to finish them," he said.
"There is no doubt that with the ownership of this going forward, the shareholders – because they paid for it – should own at least 51%, but the business world should own the rest, potentially, or l 'to exploit.
"I think this is a very real proposition."
Mr. Laurie agreed: "This is where it will go."
When Senator McKenzie suggested that AWI did not believe WoolQ was operating as a commercial department at the moment, Mr McCullough said:
"No. A few weeks ago we had a wool auction that sold 342 bales or something like that.
"This was the first sale for which we charged the service," he said.
Senator McKenzie asked AWI to provide annual figures on the number of WoolQ users, including producers, exporters, brokers and carriers.
[ad_2]