"I was studying in Paris when the Covid started", Geneviève Richardson told Larry Hall about her last visit to France.
Geneviève made the remark (translation: ​"I was studying in Paris when Covid hit") while eating a decidedly un-French chocolate chip cookie on a warm September morning as she sat on the terrace of New Haven's Book Trader Café on Chapel Street.
She was participating for the first time in a Meetup group called Let's talk Français [We Speak French]. Parlons Français, sponsored by the Alliance Française of New Haven (AFNH), attracts French students, natives transplanted from French-speaking countries, and those who wish to dust off their French in high school or college.
There is no single theme for these discussions, but the topics naturally turn to travel, French literature and cinema and, of course, French cuisine.
The lively group gathers on the terrace of the Book Trader to converse in French every other Sunday morning for 90 minutes. The group also meets online once a month at the same time on Sunday mornings.
Those who want deeper immersion in French often end up joining AFNH. The Alliance française was founded in July 1883 by a distinguished group of French intellectuals, including scientist Louis Pasteur and author Jules Verne, who wanted to promote the learning of the French language and the appreciation of French culture.
In Paris and throughout France, the group runs large centers for the formal study of French, supported in part by a small grant from the French government, but chapters in the rest of the world are each independently run and funded.
Alberta Conte, the current president of AFNH, recounts that the local group was founded around 1905 and devoted many years to activities as distinguished as tea parties. Conte has been with the band for over 50 years, having joined while in high school in East Haven and winning the AFNHannual book prize. She then majored in French at Albertus Magnus College and had a full career as a high school French teacher.
This journalist is a much newer member of AFNH. Like many people who join the organization, I studied French in high school and college, but haven't maintained my skills. I took a trip to France in 2015 and found I could barely hold a conversation, so I looked for a place to find some of what I had lost. I had heard of the Alliance Française and was pleased to find that New Haven has an active chapter with monthly book and movie groups, social events, and French classes.
Through AFNH, I signed up for several semesters of classes with the Swiss-born teacher Yvonne Kolodny, who teaches adult beginner classes, and the French Jackie Munk, who teaches advanced levels (and was also my daughter's middle school teacher ). Both women have had a long career teaching French in schools, businesses and language institutes.
Classes at all levels are immersive, taught entirely in French, using the French in action program developed in the 1980s by the late Yale professor, Pierre J. Capretz. The lively lessons are complemented by French music, games and discussions. Kolodny encourages newcomers who have never studied the language, and she enjoys seeing her students become more fluent over time.
Besides improving my rusty French grammar, my main goal in taking classes was to improve my speaking and listening skills. Although my knowledge of written French was strong enough to read French texts, I was reluctant to converse and felt that I did not even have the verbal skills of a young child. Due to my love of French literature, my ultimate goal was to become confident enough to participate in AFNH's monthly book discussion group, the Literary Café, which I finally did in early 2020.
Long-time member Larry Hall also took a keen interest in the Literary Café from his earliest days in the band. He joined AFNH after visiting France in 2003 and discovering that he had lost much of his French in high school and college. When he first started participating in the reading group, it was led by two Yale French teachers, and Hall was one of the few participants. The group facilitators selected all the books and led the discussions.
The Literary Café has grown and meets via Zoom on the second Wednesday of each month. The books of each year are proposed and voted on by all the participants of the groups. This year's books include those by such well-known authors as Colette and George Simenon. Robert Beech is now the organizer, and his favorite genres are science fiction and detective stories. He led September's discussion of the 1907 suspense classic Arsene Lupin: Gentleman Burglar [Arsène Lupin: Gentleman Burglar] by Maurice LeBlanc.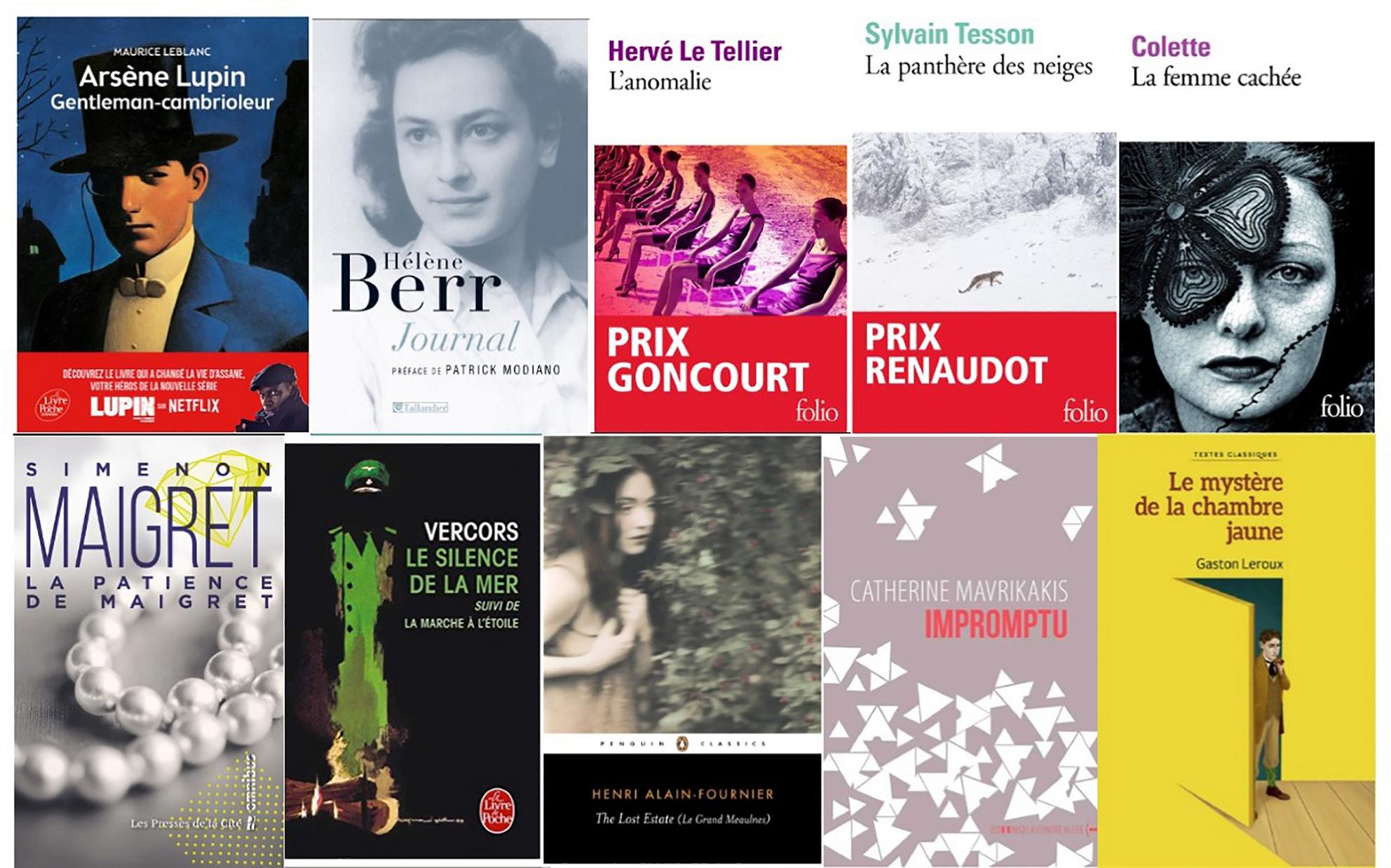 The next meeting will take place on October 12 with a discussion on Hélène Berr Diary 1942 – 1944. Berr was a talented young Parisian writer of Jewish ancestry, often referred to as the Frenchwoman Anne Frank. She lost her life at the Bergen-Bergen concentration camp five days before her release.
The Literary Café also discusses books from all over the Francophonie such as The Beautiful Creole by Maryse Condé, Guadeloupe, or the book by Kauther Adimi, Algerian Our richeswhich tells the true story of a famous Algerian bookstore from the early 20th century, but also depicts France's brutal repression of Algerian independence fighters.
The connection with French-speaking countries and people around the world is one of the aspects that Choukri Ben Mamoun, a Moroccan-born scientist based at Yale Medical School, appreciates about the Alliance Française. Ben Mamoun learned French while growing up and then went to higher education in Paris.
He explained how the several centuries of French colonization around the world ended up expanding the idea of ​​what it means to be ​"French." He thinks that the Alliance française could be called the ​"Alliance Francophone" because it brings together people from all over the world who are interested in the vast world of French culture.
Ben Mamoun also likes Apéro, a French-language discussion group that meets every Wednesday on Zoom and is hosted by the Fédération des Alliances Françaises UNITED STATES. Participants from all over the world join this group, and Ben Mamoun enjoys meeting people from countries like India who are also interested in French. He finds that many of these people share his love of learning other languages.
Larry Hall is now the National Group Treasurer, having served as the AFNH in this capacity for many years. He says there are about 100 A F chapters in the United States, as well as 1,100 chapters in 149 countries around the world. There are three groups in Ukraine, and they have received strong support from other members of the organization.
Many activities of AFNH migrated to Zoom when Covid hit and stayed there because of the ease of bringing people together from a wide geographic area. Clay Howe, who organizes the Cine Club for the AFNH, credits digital technology with allowing his band members to pursue their love of French cinema. Howe, a retired French teacher and translator, is passionate about French cinema and admits to often watching two films a day.
Previously, the film group would visit French films playing in different locations in the region and then meet at a local café for a discussion. Now the films discussed are available online and the group meets for a Zoom discussion on the third Thursday of each month. The next meeting, however, is co-hosted with the Alliance Française de Hartford and will take place on Sunday, September 18. The group will discuss the film Under Alice's Sky [Skies of Lebanon]. Director Chloé Mazlomakes made this film about her family's life in Lebanon in the years leading up to that country's civil war in the 1970s.
In addition to Zoom meetings and classes, the AFNH hosts in-person gatherings that often mark French holidays such as July 14, Bastille Day, which commemorates the day the French Revolution began with the storming of the Bastille prison in Paris. The third Thursday in November is not notable as Thanksgiving but rather as Beaujolais Nouveau Day when the annual bottling of this festive wine is officially published.
Léa Chadun, member of AFNH's Board, is a student who grew up in France. She's helped organize family events like a Halloween party in 2021 (not a French public holiday but a good reason to celebrate), and she also hopes to host a game night in the coming year as well as the traditional French celebration. of ​"La Chandeleur", or pancake day, on February 2.
People interested in being part of the Alliance Française de New Haven can register on their membership page for a very small annual fee. The next meeting of Let's speak French is September 26 at the terrace of the Book Trader Café (1140 Chapel St). The Zoom version of this discussion group will meet next on September 18, with registration available here. Other events are planned throughout this year, including a cheese tasting and a tour of the Yale University Art Gallery.